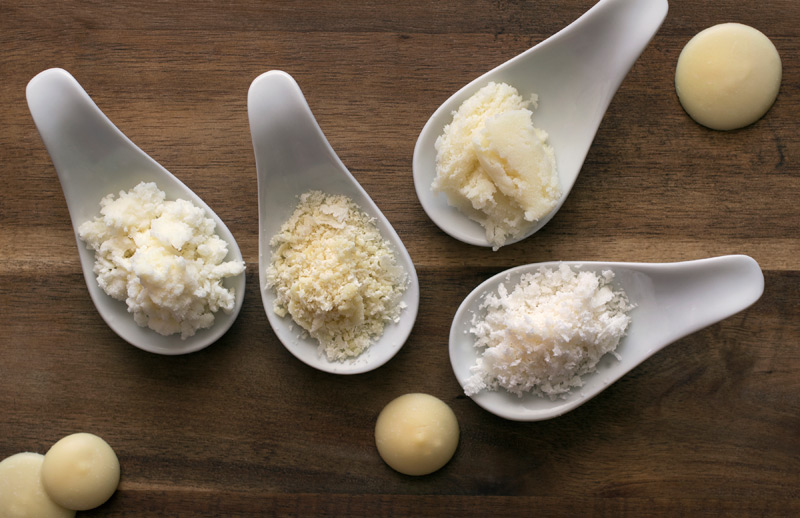 Hair butter is, next to oils, one of the most popular conditioning cosmetics. It is obtained in a traditional way by crushing, roasting or boiling of seeds and fruits of trees from ecological plantations. Usually, hair butter has solid form, but after heating up to temperature above 25°C is becomes liquid oil. Colour and scent of those products depends on ingredients, method of obtaining and of course plant used for production. Hair butter contains many nourishing ingredients, among many: vitamins, fatty acids and antioxidants.
The most popular hair butters are: Shea, coconut, cocoa, kombo, avocado, macadamia, mango, vanilla, cupuacu and babassu. They all are suitable for skin care, because they consist of hydrating, neutralising free radicals and regenerative properties. However, they equally often are used for nourishing and moisturising treatments for hair and scalp. All butters can be used as an addition to cosmetics or as an individual conditioning product. For hair butter to preserve its properties, you have to store it in right way. Great solution will be placing it away from the source of light, humidity and extreme temperatures. It is best to keep it in fridge in the airtight packaging.
Hair butter can be used in two ways: as a hair mask or conditioner. In this form, it is recommended for dry and brittle, damaged by colouring, permanent wave or highlighting hair. Before every application, hair butter should be warmed up in hands or over pot with hot water. Then apply one tea spoon of butter on wet streaks (this amount will change depending on length and volume). If you want to avoid messing up your clothes, then tie your hair in the bun or tight plait. Rinse hair mask after 30 minutes; for very damaged hair it is recommended to leave butter on hair over night. Because product is quite greasy, you have to use large amount of shampoo for hair wash. Try application of hair butter as a conditioner. You just have to apply product from the half of hair length down for several minutes before hair wash. This method of conditioning is recommended for all hair types.
What are results of hair conditioning with use of cosmetic butter? Scalp is calmed and regenerated, roots strengthened and nourished and dandruff eliminated. Hair become bounce, hydrated and smooth. Their condition is improved after first few applications. Strands regain their gloss. Scalp and hair are protected against sun radiation, impurities from external world and mechanical and chemical damages. Combing and stylisation of hair becomes easier and more pleasurable.