Hair butters are quite problematic in terms of using – they are too dense to be applied directly on hair. They may clump hair and weigh it down. Luckily, the solution appears to be simpler than you think: all you need to do is combine hair butter with an appropriate, light oil that will change the butter's texture and enrich it with additional beautifying properties. What oils are suitable to be combined with hair butters, like cocoa butter for example?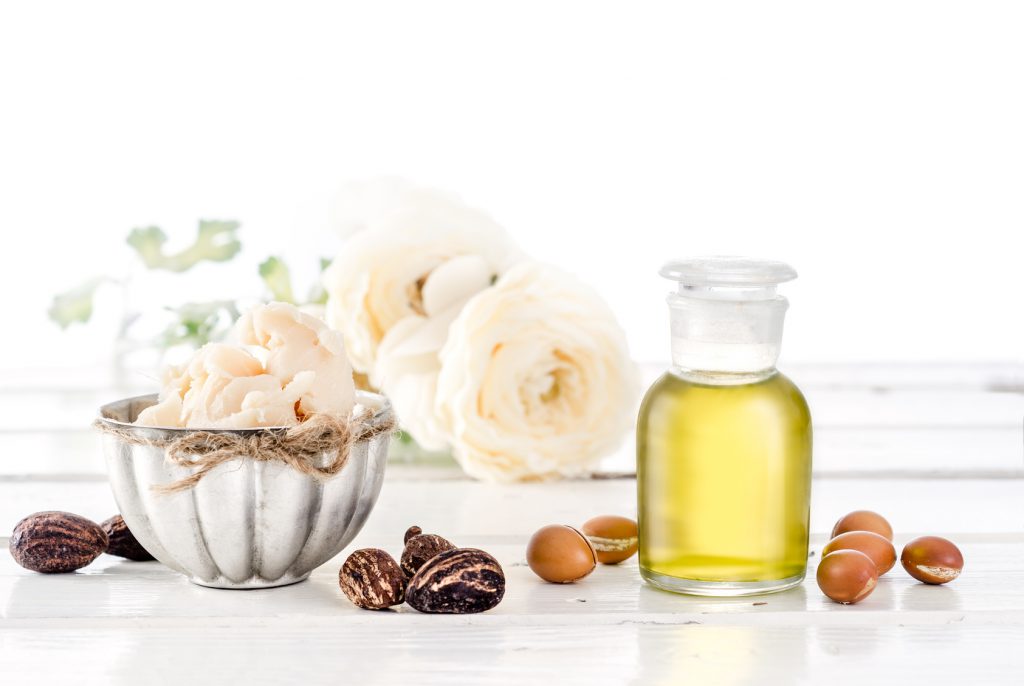 Sometimes hair care appears to be time-consuming, especially when you reach for butters (cocoa, coconut, shea, babassu and other). It's time to discover life hacks that will considerably simplify taking care of your hair – but without the necessity of resigning from using these precious natural substances!
Advantages of hair butters
Natural cosmetic butters are substances rich in nourishing substances owing to which hair – mainly low porous and unmanageable – restores its shine and good looks. Butters are emollients. Alike beauty oils, they provide hair with protection, take care of scalp and prevent water loss. Indeed, introducing cosmetic butters into beauty routine in order to improve hydration level and appearance of hair offers obvious and countless benefits, but…
… how to apply cosmetic butters to hair?
How to apply cosmetic butters to hair?
There are a few ways of using butters on strands. For example, they can be applied either to dry or damp hair, to scalp, to the entire hair length, to hair ends only, before or after shampooing, and so on and so forth.
However, hair butter in its pure form isn't suitable for direct use – prior to coating hair with butter, it has to be melted first. In this way butter changes its state into more runny which significantly facilitates spreading it on hair.
Once melted, slightly warm cosmetic butter can be used alike a regular natural oil. Sill, it must be stated clearly that preparing the butters for being distributed on hair is a fairly troublesome process, it occupies much time and may simply discourage from taking advantage of all the benefits that these natural substances have in store for us.
Life hack: Combine butter with oil!
A simple way of boosting the beautifying properties of cosmetic butters is possible due to combining them with light, natural oils. What does it give you in particular?
It's incredibly easy for oils to blend with cosmetic butters (e.g. shea, babassu or cocoa) changing their consistency into suitable for being applied directly to hair. Combining butter with oil creates a kind of a hair mask that is easy to spread on strands; it remains on the hair without overburdening it.
An additional asset to mention, depending on the oil you use for the procedure, you always create a mixture of richer composition that intensifies the action of a particular butter. In other words, natural oil gifts cosmetic butter with a completely new set of beautifying properties.
Which oil should you add to cosmetic butter?
The most important thing to do is to choose oils which consistency is light; such oils penetrate through skin easily. For example, it's a bad idea to reach for castor oil because it neither improves the properties of butter nor eases its application. In fact, castor oil mixed with butter may produce adverse effects; it might leave hair clumpy. Therefore…
… it's time to get to know natural oils that blend with butters easily.
ARGAN OIL
It displays strong rejuvenating properties, reinforces, conditions, maintains nourishment and protects: not only against the sun and water loss but also against high temperature, for example during hair styling. This is one of the most universal beauty oils you can make use of.
Natural oil that is the most suitable for high porous, damaged, dry hair is cold-pressed, unrefined and 100% organic Nanoil Argan Oil.
More information on the product here.
JOJOBA OIL
Its structure resembles human sebum. This quality makes it a perfect agent to balance skin's pH and improve work of sebaceous glands. It also prevents dandruff and greasy hair. In short, it's worth taking jojoba oil into consideration because it's light and fast-absorbing.
Natural oil that is the most suitable for normal hair and problematic scalp is cold-pressed, unrefined and 100% organic Nanoil Jojoba Oil.
More information on the product here.
ALMOND OIL
Another oil worth being introduced into hair care is almond oil – very light, fast-absorbing and irritation-soothing. It doesn't only take care of hair by supplying it with water and providing with nourishment but it's also able to protect against the sun, intensifies shine and boosts elasticity.
Natural oil that is the most suitable for all hair types, including dehydrated and mature, is cold-pressed, unrefined and 100% organic Nanoil Sweet Almond Oil.
More information on the product here.
Beauty oils as an alternative to cosmetic butters
Obviously, cosmetic butters might be completely excluded from hair care and be replaced with a chosen natural oil (best if matched with hair porosity). Thanks to this you will gain more possibilities of applying and making use of natural substances. The advantage that natural oils have over cosmetic butters is the considerably wider choice.